Aiku Forum
Forum for Social Innovation & Sustainable Development
Celebrating Mama
Onigolu
Madam Comfort Aiku Adeyele (néé
Odujobi) 1952 - 2019
A jewel of inestimable value!
Childhood
Mama was born on the 22nd of
November 1932 to the family of Pa
Onafowokan, popularly known as "Eleku"
of Igan. Her Father was the late Pa Alfred
Odujobi Onafowokan, popularly known
as "Ejiwoye". Her Mother was late
Madam Eunice Idowu Onafowokan, a
daughter from the Families of Pa Aniure
from Igan-Aarin and Pa Elejiku from the
Akobada ruling house, Ibido, Odosenlu.
Mama

lost her mother at the tender age of
four (4). She was broght up by her
grandmother - Mama Sennowo alongside
her cousin -Otunba Thomas B. Adebayo.
Education
Mama has no access to formal education,
but her quest for knowledge made her
enrol for adult education in the early 70s.
She brilliantly completed the courses and
could read very well till old age. Mama later
became a standing member of the
delegation of the Holy Trinity Anglican
Church Igan to the diocesan synod. At 87,
mama still read her Bible without wearing
glasses. Her Memory was so sharp that
most members of the family consult her to
verify past issues.
Working Life
Mama was a committed and sacrificial
trader, loved by all and sundry. She would
engaged in any honest activity that brings
enough profit to cater for her needs.
As hard-working as Mama was, s
he traded
in Kundi and Tapa fish at Atan and Owu
markets. She traded in household wares,
foodstuffs, etc.
As a woman of virtue, Mama also engaged
in stone sieving in the quarry (Ajo mi dola)
to make ends meet. An activity that took
her to Imuroko where she stayed with her
aunty called Maadan. Mama was also
reknowned for her Gari production.
Traders and Patrons of Oke Aje market in
ijebu-ode, Imushin Market, Mojoda Market
in Igan and Fugbada Marke in Ita-Marun all
remeber Mama for her honest,
reconciliatory and religious nature.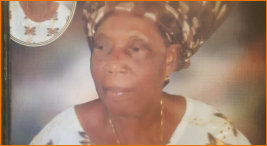 Family Life
Onigoolu got married to late Pa Johnson
Bolaji Adeyele in the early fifties (50s). The
marriage was
blessed with many children,
grandchildren and great grandchildren.
Mama was a rejected stone that became
the "Corner Stone"
Mama with her Children and
Grandchildren
Christian Life
Onigoolu was a devoted Christian to the
core. Baptized and confirmed. She loves
singing and she was a "Praying Mantis".
Mama welcomes and bids every one with
prayers. She was a member of Ifelodun
Society of Holy Trinity Anglican Church,
Igan. She also belong to "Egbe Aya Bishop".
Onigolu was a valiant soldier of Christ. The
focal point of the family, a caring and loving
mother and grand-mother.
May her gentle soul rest in peace.
Tributes
Below are few lines from the numerous
tributes paid to Onigolu's memory.
Mrs Aderinsola F Balogun
(Mama's eldest child)
"Onigolu, despite the fact that you did not
enjoy motherly care, you played the
motherly role to every child that comes
your way till death.We labored together for
my first fruit at Abiye Hospital Makun,
Shagamu. The day you were bathing me
and I feinted cannot be forgotten. You did
not have the priviledge to get formal
education but you made sure your children
got to the peak of their careers. Even the
adopted children and any child that came
your way."
Olubunmi Idowu Bolaji
(Mama's only son)
"….. My sojourn with you in this life taught
me some valuable lessons. Your life
exemplified biblical teachings. You
demonstrated the fruits of the Spirit, Love,
Joy, Peace, Patience, Kindness, Goodness,
faithfulness, Gentleness and Self-
Control……
Dear Lord,
If roses grow in heaven,
Lord please pick a bunch for me,
Place them in my Mother's arms
And tell her
they're from me.
Tell her I love her and miss her.
And when she turns to smile,
Place a kiss upon her cheek
And hold her for a while.
Because remembering her is easy,
I do it every day,
But there's an ache within my heart That
will never go away."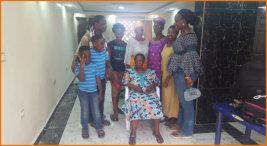 Mrs Taiyelolu A. Omotayo
(Mama's last born)
"You lived as a single mother for almost 50
years of your life, you struggled and
suffered so
much to raise me and my
siblings, you worked hard and endure so
many hardships to ensure your children
reached greater heights.
I salute your enduring, perseverance,
tolerance, long suffering, peace-making
spirit, above all, a praying mother with a
bended knee. All your wish and prayers
were answered an us and our children.
The mere mention of you in public opens
companionship & opportunities."

.
Mama with Yetunde, one of her
Grandchildren
Mrs Stella Taiwo Akinyemi
(néé Olaitan - Aunty Abeni)
"…. the most compassionate and
understanding wife of the Adeyeles family
is gone. She was the only one who
understood my mother, and all my other
siblings know this. What else can we say
than to thank God for her life….."
Oluwayemisi Balogun
(One of Mama's grand-children)
"…. Oh Aikulola, the kind of mother in-law I
pray for. I can't believe you did not
eventually wait to see my kids like you've
always hoped. Who will call me when
needed, to advise and plead with me not to
fight mith my dad, remind me to always be
there for my siblings because that is all
that matters? …. Who will call me to sing
to me on my birthday, or even constantly
check up on me and tell me how much you
look forward to my next visit? …. Thank you
for the unforgettable memories you left
with us, they will always be a part of us"
Peculiar Omotayo
(Mama's youngest grand-child)
" …. if tears could build a stairway and
walk down to memory lane. I will walk up
to heaven just to see your beautiful face
once more. Noamount of farewell could
bring you back. I kept on figuring your
charming face. I drew and drew your
pictures. can a picture talk? Can a picture
do what my Grandma use to do for me?
Love you till eternity"